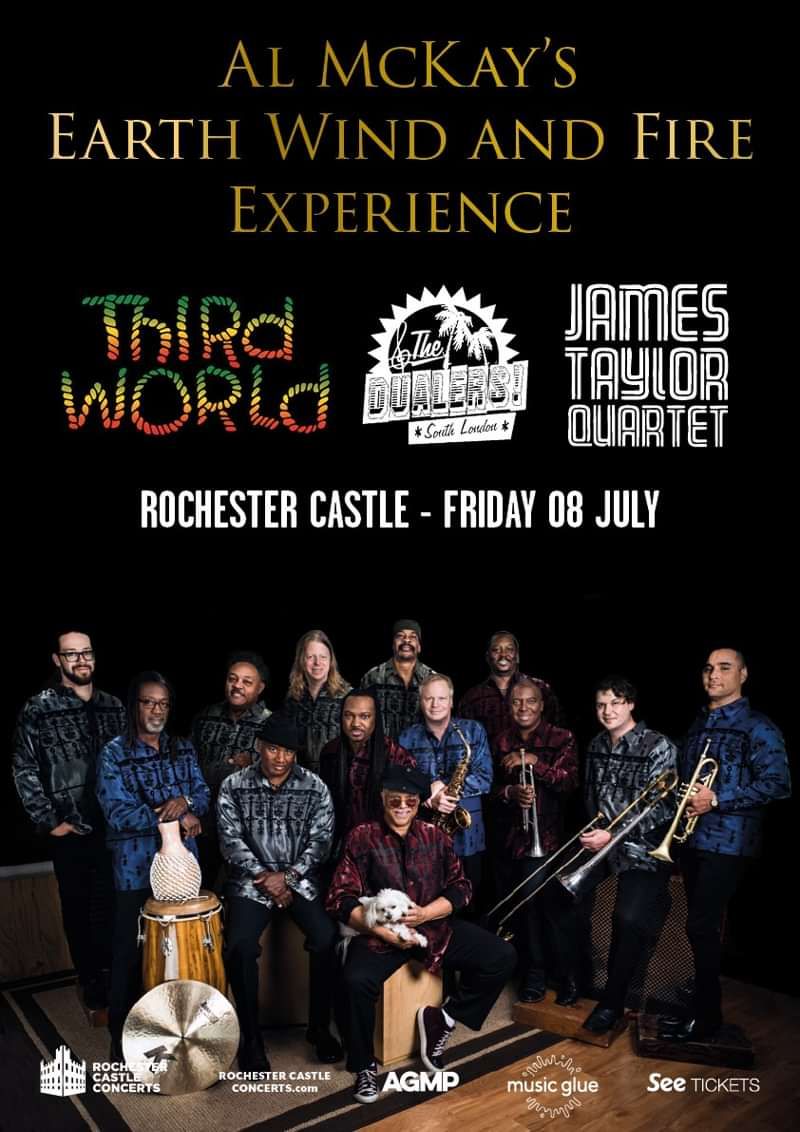 Rochester Castle Concerts presents:
Al McKay's EARTH, WIND & FIRE EXPERIENCE
+ THE DUALERS + THIRD WORLD + JAMES TAYLOR QUARTET
Accessibility tickets - please contact suppport@musicglue.com a free disability access personal assistant pass - more info in the [FAQs](https://www.rochestercastleconcerts.com/faqs

If you pick the VIP ticket option, please note that it includes the following exclusive benefits:
- A dedicated fast track VIP entry lane
- Private VIP bar offering an eclectic range of drinks from beers and wines to bubbly
- Access to toilets only available for VIP ticket holders
- Seating within the VIP bar area (subject to availability)


Al McKay's EARTH, WIND & FIRE EXPERIENCE
+ special guests:
THE DUALERS
THIRD WORLD
JAMES TAYLOR QUARTET
Al McKay spent 8 years (1973-1981) as the guitarist and songwriter in Earth, Wind & Fire and now fronts the Earth, Wind & Fire Experience who formed in 1990 when the original band went on hiatus. Now featuring former members of Earth, Wind & Fire, Tower of Power and the Doobie Brothers, Al McKay's Earth, Wind & Fire Experiencewill be performing all of the EWF hits such as September, Let's Groove, Boogie Wonderland, Fantasy, After The Love Has Gone, In The Stone, Sing a Song, Reasons, Getaway, Can't Let Go along with songs like The Emotions' Best Of My Love which was written by Al McKay.
The Dualers are a 9-piece Ska band from South-East London. The Dualers recently headlined at Wembley Arena to launch their new LP.
Jamaican Reggae group Third World formed in 1973 and are known for the worldwide hits Now That We've Found Love, Dancing On The Floor (Hooked On Love), 1865 (96º In The Shade) and more.
For over 30 years, Medway group the James Taylor Quartet have set the standards for coolest sounds in funky acid jazz. Expect to hear songs from the excellent new LP Baker's Walk along with classics such as Love Will Keep Us Together, Blow Up, Free Your Mind, and Theme from Starsky & Hutch.

Line Up
Al McKay's EARTH, WIND & FIRE EXPERIENCE