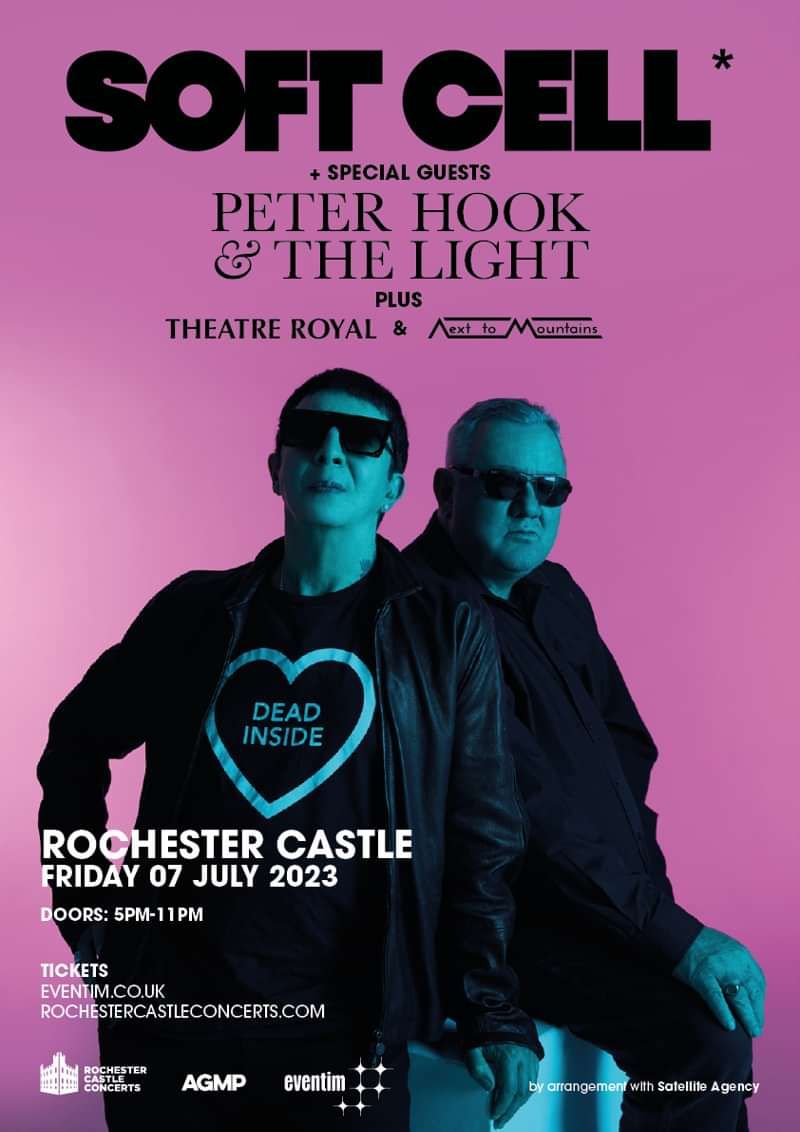 AGMP presents:
Soft Cell + Peter Hook & The Light
£55.00
Entry Requirements: 14+
SOFT CELL will perform live in an exclusive outdoor concert in the stunning grounds of Rochester Castle, Kent on Friday 7th July 2023, with very special guests PETER HOOK & THE LIGHT who will perform music from Peter Hook's first bands, New Order and Joy Division.
Having met at Leeds Polytechnic University in the late 70's, Soft Cell (Marc Almond and Dave Ball) released four UK Top 20 albums between 1981-1984, spawning hits such as Memorabilia', 'Torch', 'Say Hello, Wave Goodbye'; and of course their boundless, era-defining No.1 hit 'Tainted Love'.
The duo performed to a sold-out crowd at The O2 in London in 2018 for what was intended to be a farewell concert, but in the intervening years spawned a brand new album '*Happiness Not Included', as well as recent UK and North American tours celebrating the 40th anniversary of their debut album, 'Non-Stop Erotic Cabaret'.
Peter Hook & The Light feature one of the founding members of both Joy Division and New Order, Peter Hook. His group The Light celebrate the music of both legendary groups performing hits and fan favourites in a spectacular live performance.
Medway artists Theatre Royal and Next to Mountains will be appearing also.
Any FAQs can be found here https://www.rochestercastleconcerts.com/faqs
RUNNING TIMES
5PM. DOORS OPEN
5PM - 6.10PM. DJ AADIL RASHEED
6.10PM - 6.30PM. NEXT TO MOUNTAINS
6.30PM - 6.50PM. DJ AADIL RASHEED
6.50PM - 7.15PM. THEATRE ROYAL
7.15PM - 7.45PM. DJ AADIL RASHEED
7.45PM - 8.45PM. PETER HOOK & THE LIGHT
8.45PM - 9.15PM. DJ AADIL RASHEED
9.15PM - 10.45PM. SOFT CELL
11PM. CURFEW
LAST ENTRY IS AT 7PM